This recipe is based on one I stumbled upon in a paleo magazine years ago. It originally contained apples, sugar and orange juice. I altered it to reduce the amount of sweetener, used maple syrup instead of sugar, swapped out the apples for persimmons and used Meyer lemon juice instead of orange juice because that was what was in season when I first made it. It is so tasty and has been such a huge hit that I never tried it with apples, but I bet it would be delicious! This delicious cake is low sugar and contains gently heating spices that are perfect for warming up the body during the colder seasons. It also contains molasses to support health iron levels and healthy fat to leave you feeling satiated. And it's SO DELICIOUS and pleasing to the eyes!

INGREDIENTS:
- 2 persimmons - peeled, cored, quartered and sliced 1/4 inch thick
- 1 TBSP fresh Meyer lemon or Orange juice
- 1-2 (depending on your tastes, I use 1 Tbsp and it's plenty sweet) + 1 Tbsp Maple Syrup, divided for use (you'll see)
- 1/2 cup coconut flour
- 2 tsp ground cinnamon
- 1 tsp ground ginger
- 1 tsp freshly grated nutmeg (yes, it's worth it to grate your own)
- 1 tsp baking soda
- 1/2 tsp baking powder
- 1/4 tsp sea salt or Himalayan salt
- 1/2 cup coconut oil, room temperature + more to grease the dish
- 4 large eggs, room temperature
- 1/2 cup unsweetened applesauce or other fruit puree (I cooked down & pureed 2 persimmons)
- 1/4 cup blackstrap molasses
INSTRUCTIONS:
- Preheat oven to 350 degrees. Line the bottom of an 8-inch round baking dish with a circle of parchment paper & grease the paper and the sides of the pan with ~1 Tbsp of coconut oil.
- Toss the persimmon slices with the lemon juice + 1 Tbsp maple syrup in a small bowl & set aside.
- In a medium bowl, whisk together the coconut flour, cinnamon, ginger, nutmeg, baking soda, baking powder and salt. Set aside.
- With an electric mixer in medium speed, beat together the coconut oil and remaining 1-2 Tbsp of maple syrup. Add the eggs one at a time, beating well after each addition. Be sure to scrape down the sides of the bowl to fully incorporate all ingredients. Add the fruit puree and molasses. Beat to combine. Add the flour mixture and beat to combine thoroughly.
- Arrange the persimmon slices in a circular pattern in the prepared cake pan - or get creative and create whatever shape you'd like -- your friends initials? A smiley face? It's your cake. You'll likely have a few extra persimmon slices - eat them! Spread the batter over the top of the fruit slices.
- Bake for ~30 minutes until a toothpick inserted into the center of the cake comes out clean.
- Allow cake to cool completely. Then, run a knife around the edge of the cake to loosen it from the pan. Place a plate on top of the cake pan. Holding the plate to the pan with one hand and the pan itself with the other, carefully flip the cake onto the plate. Gently remove the cake pan from the cake and peel off the parchment paper from the top. Viola! Look at the beauty you created! Cut into slices and feel free to sprinkle with extra cinnamon before serving. Store leftovers in the refrigerator.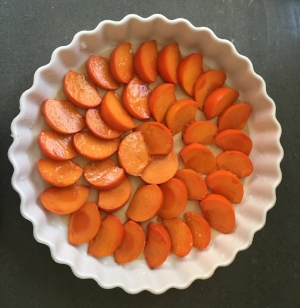 Step 1: Arrange fruit in baking dish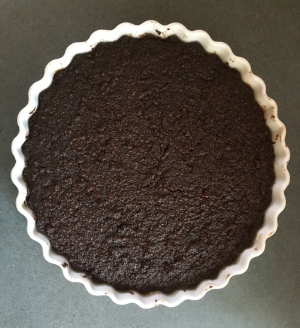 Finished baking and ready to flip after cooling!